Advertiser Disclosure: We love living points life by using points and miles to elevate travel experiences. In the interest of being transparent with you, we may be compensated from an approved credit card's application, or from some of the products and services recommended on this site. This only happens when you click on our affiliate links. We also earn commissions from purchases made through Amazon Services LLC Associates Program. Thank you for your support and especially for reading this blog! Please see our Advertiser Disclosure for more details!
YOTEL and JetBlue launched a partnership on August 1, 2023. The partnership enables YOTEL guests to finally earn some rewards because the YOTEL rewards program, with the silly name Club@YOTEL, is useless. 
Earning JetBlue TrueBlue points can be a good start for YOTEL to partner with more frequent flyer programs later. The good news is that TrueBlue members receive on-property perks when they book directly through YOTEL and other eligible booking platforms such as JetBlue Vacations.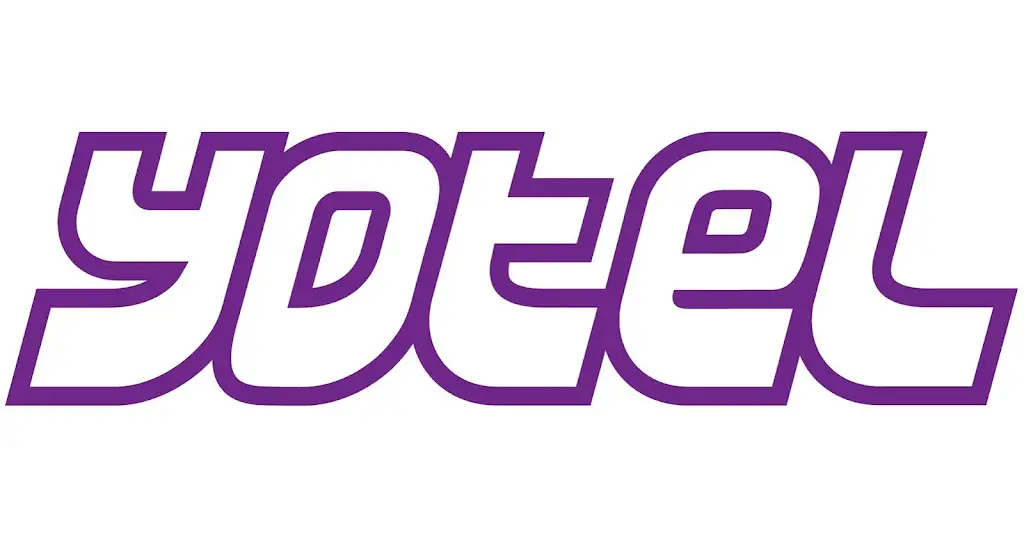 Earning JetBlue TrueBlue Points With YOTEL Stays
In a nutshell:
TrueBlue members earn 1 TrueBlue point per dollar spent when they stay at a YOTEL property booked through eligible booking channels. 
Booking channels are YOTEL.com, TrueBlue Booking Page, and JetBlue Vacations platform, which is referred to as Paisley.
TrueBlue members can earn TrueBlue points on the room rate only based on spending in US Dollars. The exchange rate applies to different currencies. 
TrueBlue members receive TrueBlue points within 30 days after a completed stay. 
TrueBlue Members' Benefits With YOTEL Stays
When you book and stay with YOTEL to earn TrueBlue points, you also receive the following benefits:
TrueBlue members receive 10% off YOTEL's Flexible Rate.

A flexible rate means you also receive free cancellation.

TrueBlue members receive a welcome amenity gift upon check-in.

The gift is a premium snack and beverage. 

TrueBlue Mosaic elite members can receive a complimentary upgrade to the next room type, subject to room availability. TrueBlue Mosaic members also receive a 2 PM late checkout, subject to availability.

The Mosaic benefit is not applicable for stays at the YOTELAIR brand. 

Front desk staff may ask the guest's TrueBlue membership and status level for verification at check-in.
YOTEL Brands & Locations
YOTEL currently has three (3) brands:
You likely find more YOTEL brand locations in Europe and Asia than in the United States. I find YOTELAIR convenient because the properties are generally located at the airport, making it easy for early flights. 
Here are the links to each YOTEL brand location:
YOTEL Brands Excluded From JetBlue TrueBlue Benefits
YOTELAir Paris Charles De Gaulle does not participate in the YOTEL and JetBlue partnership. Therefore, TrueBlue members will not earn and receive the benefits while staying there. 
TrueBlue Mosaic members' benefits are not applicable for stays at the YOTELAIR brand. 
How To Book And Earn JetBlue TrueBlue Points With YOTEL?
YOTEL created a dedicated web page for the JetBlue TrueBlue Booking Page. A few things to note:
You do not need to create a YOTEL account for this partnership. You do, however, need a JetBlue TrueBlue membership number. 
Besides booking directly with the JetBlue TrueBlue Booking Page, you can also book through JetBlue Vacations. 
You can also book with YOTEL non-TrueBlue Booking Page online by providing the JetBlue promo code: JETBLUE1
I will make this instruction simple and go through the TrueBlue Booking Page:
Go to the official YOTEL & JetBlue partnership website. 
Scroll down and click on the TrueBlue Booking Page button. 
Provide your desired stay dates, and click on the Search button. 
Scroll through the list of YOTEL hotels and click on the View Rates button.
Choose a room by clicking on the Book Now button. 
The final page displays the total room rate, including taxes and fees.

You can find the currency drop-down at the top if you want a specific currency. 

Provide your contact information, JetBlue membership, credit card, and review policies. See the screenshot below.

Ensure your email address is correct because that's where you will receive the confirmation number. Without it, you cannot change or cancel the reservation. 

Click on the Complete Booking button once everything looks good. 
You may change or cancel your reservation online by clicking the manage booking link in the confirmation email.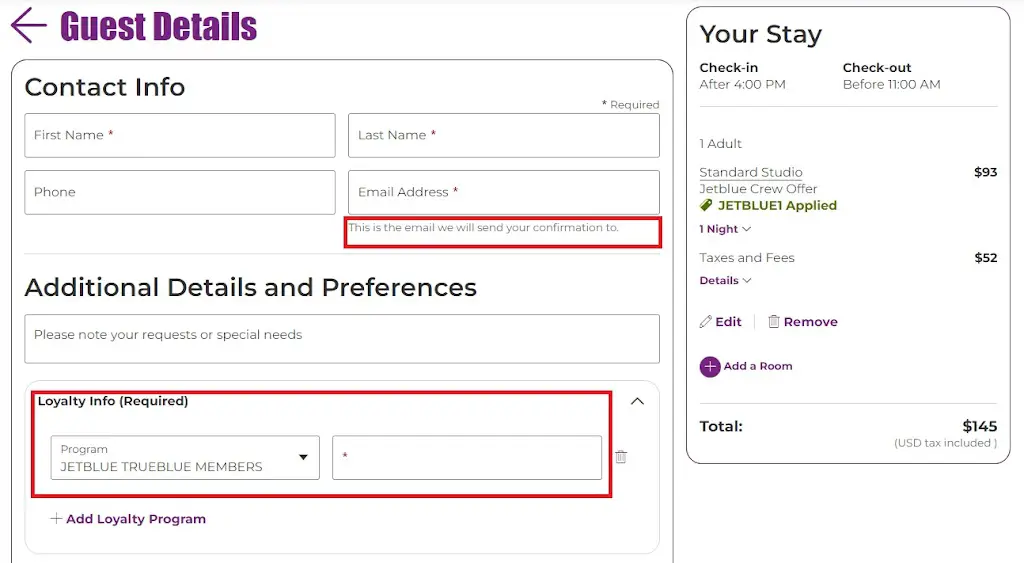 Is Booking With Yotel TrueBlue Worth It?
It's always advisable to compare bookings through online travel agencies (OTAs), the YOTEL website without the TrueBlue rates and benefits, and the YOTEL website with TrueBlue rates and benefits. 
In my experience, I noticed the following:
Booking through online travel agencies can be more expensive than booking directly with the YOTEL website. The rate is also not as flexible. 
The rate for booking through JetBlue Vacations can be more than booking directly with YOTEL. 
The rate for booking through the TrueBlue Booking Page is slightly higher than booking directly with the YOTEL website without the JetBlue promo code JEBLUE1. The difference was not much that I decided to book and earn TrueBlue points rather than nothing. 
I always advise comparing and evaluating all other benefits. Sometimes, you might have some OTA or credit card travel credits to book a YOTEL stay that suits your travel needs.