"Full Disclosure: We love living points life by using points and miles to elevate travel experiences. In the interest of being transparent with you, we may be compensated from an approved credit card's application, or from some of the products and services recommended on this site. This only happens when you click on our affiliate links. We also earn commissions from purchases made through Amazon Services LLC Associates Program. Thank you for your support and especially for reading this blog! Please see our Advertiser Disclosure for more details!"
JetBlue Mint business class products are one of the favorites among the points community. A decent award redemption for Mint has been difficult due to the lack of redemptions with partners. There used to be a way to redeem Emirates Skyward miles for Mint, but that was discontinued.
Now, Qatar Airways makes it possible again to use the Privilege Club Avios to book JetBlue Mint. Here's how.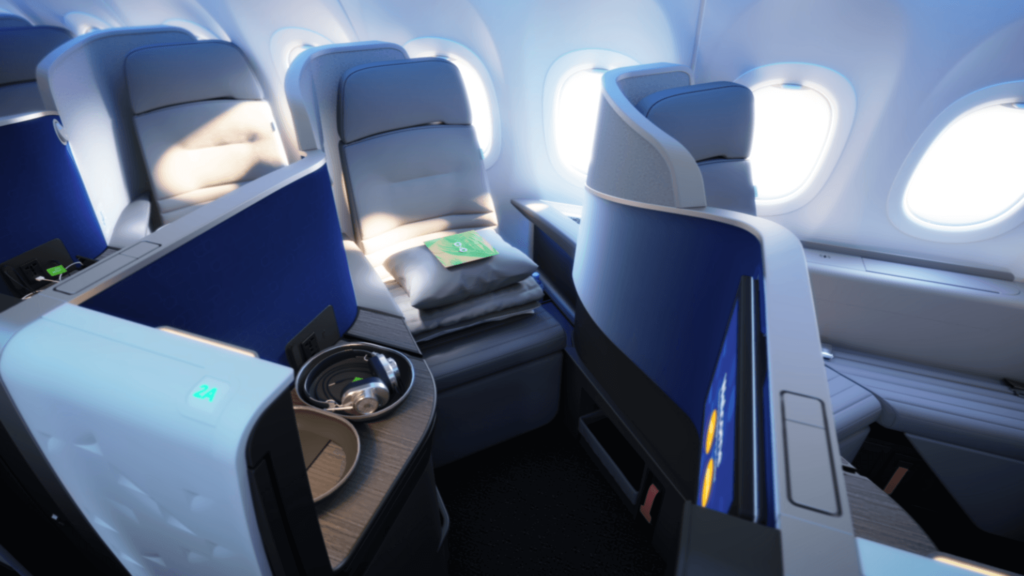 JetBlue Award Chart With Qatar Airways
Qatar Airways has an award chart for partners based on the distance flown. However, Qatar Airways uses a different distance-based award chat for JetBlue flight redemption.
DansDeal put together the following award chart for JetBlue flight redemption using Qatar Avios:
| Flight distance | Economy | Mint Business |
| --- | --- | --- |
| 0-1,100 | 8.5K | 17K |
| 1,101-2,000 | 13K | 26K |
| 2,081-2,800 | 18,500 | 74K |
| 2,801-3,700 | 25K | 78K |
Qatar Airways JetBlue Award Chart
Use the Great Circle Mapper to help you determine the distance for the JetBlue Mint route you want to take. For example, the Boston to Dublin flight distance is merely under 3,000 miles, so you need 78,000 Qatar Avios points for a one-way JetBlue Mint redemption.
JetBlue Mint Routes 2023
The easiest way to find JetBlue Mint routes is to use the official JetBlue website.
It's best to use the web browser on your computer's desktop:
Go to the JetBlue Mint route map website.
Pick an airport in the From field on the left-hand side.
Then click on the Stops button and select Nonstop.
Next, ensure the Mint service button is selected.
A list of destinations from/to the chosen airport indicates those routes have Mint service.

If applicable, you may need to zoom in and out on the map to show more destinations.
How to Book JetBlue Mint With Qatar Avios
Booking JetBlue Mint with Qatar Airways Avios can be done online. Here's how:
Go to the Qatar Airways Redeem Avios website.
Log into your Qatar Airways Privilege Club account if not signed in.
Provide your search parameters, and then click the yellow Show Flights button. See the screenshot below.
You may not have enough Avios in your account if you encounter an error. Therefore, you can combine your British Airways Executive Club Avios with Qatar Airways Privilege Club Avios first. I transferred 100 Avios points, and that resolved the error for me. However, YMMV!
You can view the Avios points and taxes needed for booking if the award seat is available. See the following example screenshot below.

Can I book multiple stops with Jetblue Mint using Qatar Avios?
Suppose you live on the West Coast and fly to London, but JetBlue does not fly directly. So, you must connect at another JetBlue airport hub, such as Boston or New York, which also has Mint service. In that case, you can still use Qatar Avios to redeem for such multiple stops; however, the pricing will be based on two awards instead of one.
Conclusion
JetBlue Mint business class rewards can now be booked using Qatar Airways Privilege Club Avios points. This provides a new avenue for redemption following the discontinuation of redemption through Emirates Skyward. Customers can use a custom award chart of flight distances to determine redemption points and book online via the Qatar Airways Redeem Avios website. Although multiple stops are possible with Qatar Avios, the reward pricing will be based on two awards instead of one.