"Full Disclosure: We love living points life by using points and miles to elevate travel experiences. In the interest of being transparent with you, we may be compensated from an approved credit card's application, or from some of the products and services recommended on this site. This only happens when you click on our affiliate links. We also earn commissions from purchases made through Amazon Services LLC Associates Program. Thank you for your support and especially for reading this blog! Please see our Advertiser Disclosure for more details!"
UPDATES:
Staples: Buy $200 Mastercard Gift Cards With No Purchase Fee between December 3 and December 9, 2023.
The Gift Card Shop: Get 50% off Visa, Mastercard, and Amex Gift Cards
Added Kroger Online: $10 off $150 Visa and Mastercard.
Here's the complete list of Amex, Mastercard, and Visa gift cards with no fees through discounts and promo codes currently offered. The list will be updated frequently when a new no-fee or discounted gift card offer and deal are offered. 
In the meantime, feel free to bookmark this page or subscribe to our blog posts below for any upcoming no-fee Amex, Mastercard, and Visa promotional codes and offers.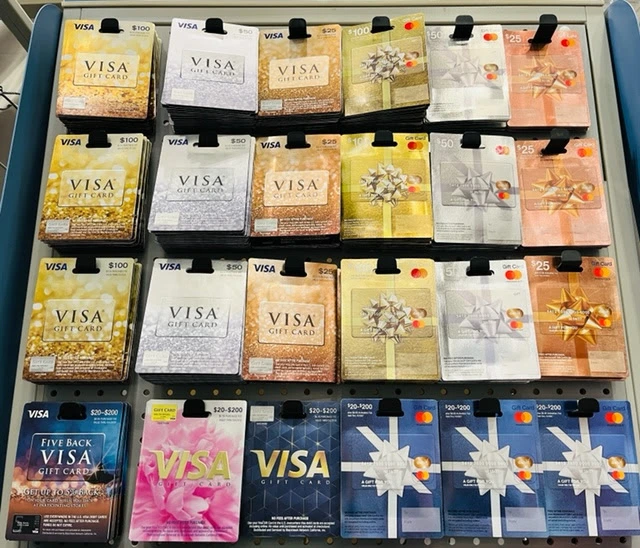 Gift Card Granny: Free Shipping On Visa & Mastercard Gift Cards
The Gift Card Shop: Get 50% off Visa, Mastercard, and Amex Gift Cards
GiftCards.com: No Purchase Fees on Virtual Visa Gift Cards
GiftCards.com: Get a 6% Discount For Virtual Visa Gift Cards
GiftCards.com: Get a 10% Discount For Visa Gift Cards
GiftCards.com: Get a 5% Discount For Mastercard Gift Cards
Lowe's: Buy a $200 Visa Gift Card and Get a $15 Lowe's eGift Card
Staples: Buy $200 Mastercard Gift Cards With No Purchase Fee
Staples: Buy $200 Visa Gift Cards With No Purchase Fee
Kroger Online: $10 off $150 Visa and Mastercard
Kroger Online: Save 5% on $25-$100 Mastercard and Visa Gift Cards
Office Depot/Office Max: Buy a $300 Visa Gift Card and Get $15 Off
VanillaGift.com: No Purchase Fees Visa eGift Cards
American Express Gift Cards With No Purchase Fees Promo Codes
American Express Gift Cards With No Shipping Fees Promo Codes
Amex Offer: Get a $10 Statement Credit When You Buy Amex Gift Card