"Full Disclosure: We love living points life by using points and miles to elevate travel experiences. In the interest of being transparent with you, we may be compensated from an approved credit card's application, or from some of the products and services recommended on this site. This only happens when you click on our affiliate links. We also earn commissions from purchases made through Amazon Services LLC Associates Program. Thank you for your support and especially for reading this blog! Please see our Advertiser Disclosure for more details!"
Amazon Prime offers several key benefits for shoppers, ranging from discount deals to Prime Music, Prime Video, Prime Reading, and more. If you love shopping with Amazon, getting Amazon Prime Membership is a no-brainer. You will benefit greatly from what Prime membership offers, deep discounts and free, fast shipping on things you buy from Amazon.
The only downside of Amazon Prime is that Membership is not free. A prime membership plan is not too expensive if you often shop on Amazon. However, if you are still hesitant to pay for the Prime membership, here are a few ways to get the Membership for free or at a discounted price.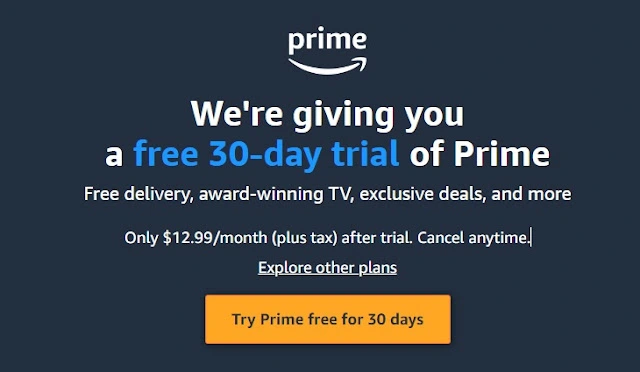 What Is Amazon Prime?
If you are new to Amazon Prime, Amazon Prime is a membership program that offers you benefits and deals on things you usually buy off Amazon with crazy fast and free shipping options. In addition, you also have access to Prime Insider, which keeps you up to date with shopping news and tips. You can also access Amazon entertainment services such as Amazon Original series, movies, TV shows, music, books, magazines, and more. 
What Are The Prime Benefits?
There are several valuable benefits to becoming an Amazon Prime member.
Shipping & Delivery Benefits:
You receive fast and free shipping from two-day to one-day and same-day delivery with no minimum purchase. 
You receive no-rush shipping and earn rewards for future Amazon purchases.
You receive a two-hour grocery delivery. 
You receive free two-day prescription delivery. 
Shopping Benefits:
You receive exclusive discounts and offers on Amazon items available only to Prime members. 
You receive exclusive discounts at Whole Foods Market, both in-store and online. 
You have access to Prime Day events each year, which offer significant savings and discounts on items sold on Amazon.com.
You get 30-minute early access to Lightning Deals on Amazon.com.
When you have five or more subscriptions, you get 20% off family items such as diapers and baby food. 
You can access Prime Wardrobe to try on clothing items, including shoes and jewelry, and pay only for those items you'll keep. 
Specific Shops Benefits:
You receive free standard shopping on all Shirt.Woot purchases.
You receive free two-day shipping and next-day shipping at shopbop.com
You receive free expedited shipping on all Zappos orders. 
Reading Benefits:
With Prime Reading, you get unlimited access on any device for eBooks, magazines, and more. 
You can download free new releases with First Reads before the official publication date. 
You receive discounted 4-month print magazine subscriptions for only $0.99 each. 
Free GrubHub+ Membership:
You receive one year of Grubhub+ membership (normally costs $9.99 per month, a savings of $120 with your Prime membership).
GrubHub+ offers the following benefits:

Free unlimited delivery on orders of $12+ (taxes, fees, and gratuity are not included) at participating restaurants. 
Access to elite Care. 
Donation match when you donate your spare change. 
Exclusive perks and rewards with every order and more. 

GrubHub+ auto-renews after your free one-year Membership is up, so remind yourself to cancel before that. 
Registration for the promotion is required (link below). 
Amazon Credit Cards Benefits:
The Amazon Prime Rewards Visa Signature Card earns 5% back at Amazon.com and Whole Foods Market, 10% back on select products, and 1% back on all other purchases. 
The Amazon Prime Store Card earns you 5% back daily on Amazon.com.
The Amazon Prime Secured Card earns you 2% back on Amazon.com, Amazon Fresh, and more. 
For more details on Amazon Prime benefits, you can access information here. 
How Much Does An Amazon Prime Membership Cost?
The plan for Amazon Prime membership costs the following:
$14.99 per month
$139 per year. You save $40.88 with the annual plan. 
Prime Video membership costs $8.99 per month.
However, there are ways to get Amazon Prime for free or at a discounted price. See below:
Free Prime Membership
Below are a few methods to get an Amazon Prime Membership for free.
Free 30-day Trial Amazon Prime
If you have never had Amazon Prime, you can try it out for 30 days. After 30 days, Amazon will automatically charge you for the monthly Membership unless you cancel before your free trial ends.
If you do not wish to continue your Prime membership, set a reminder on your calendar or through the Amazon Prime setting (more below) to remind you via email three (3) days before your free trial ends to cancel your Prime membership. 
For those who have tried Prime in the past, you can continue checking to see if you are eligible to try Prime again. It is unofficially known that Amazon lets customers have an Amazon Prime free 30-day trial once every 12 months, so keep checking here, as you never know! 
I also have seen reports indicating that you can use a different email address to sign up for an Amazon account to get multiple free trials. However, managing different Amazon accounts and payment information is a lot of work. 
To try Amazon Prime, simply do the following:
Go to the official Amazon Prime page.
If the offer is available, click the Try Prime free for 30 days button.
Follow the Amazon site to finalize your trial. 
Please note a payment method is required to try Prime, but you will not be charged during your 30-day trial period. 
Free 6-month Trial Amazon Prime & 50% Discount For Students
If you are a student, you can get an Amazon Prime free trial for six (6) months. After that, you pay for your Prime membership at a 50% discount off Prime's plan. 
You must have a .edu email address to sign up for this offer. If you do not have one, you can still apply, but verification is required, and it usually takes 3-5 business days to complete that process. 
Go to the official Amazon Prime Student page.
Click on Try Prime Student
Follow the Amazon site to finalize your 6-month free trial for Amazon Prime. 
Please note a payment method is required to try Prime, but you will not be charged during your 6-month trial period. 
Free Amazon Prime With Citigold Account Package
Citi Bank offers Citigold Account Package clients up to $200 in rebates annually on selected memberships and subscription purchases, including the Amazon Prime membership.
The Citigold account package requires a lot of money ($200,000+ in eligible linked deposit, retirement, and investment accounts) to remain the client. It may be too much to become the client simply to get the Prime membership, but this is an option if you already are a Citigold account member. Moreover, Citi often has a cash bonus promotion if you open the Citigold account package and complete certain required activities, and you can earn up to $2,000 in cash bonus. 
Go to the Citi subscription offer page and scroll down to see the participating merchants, including Amazon Prime. 
Free Amazon Prime With Metro by T-Mobile
Switching cell phone companies only to get a free Prime membership seems aggressive. Still, if you are already a Metro by T-Mobile customer or plan on switching or getting a prepaid phone plan any time soon, you can look into Metro, which is part of the T-Mobile phone company.
Metro has an unlimited $60/month Heritage Plan with a complimentary Amazon Prime membership. That saves $14.99 per month for the Prime membership, which reduces your Metro prepaid plan from $60 to about $45 per month. If you stay on the qualifying Metro Heritage Plan forever, that's like getting a free Amazon Prime membership!
Free Amazon Prime With Vodafone Mobile Plans (UK)
The UK site for Vodafone offers entertainment plans such as YouTube Premium, Spotify Premium, and Amazon Prime, all included in their on-contract and sim-only mobile plans.
I am unfamiliar with Vodafone (UK), so please check it out for more details here. 
Free Amazon Prime With Amex Platinum Card Australia's Subscription Credit
The Australian version of the Amex Platinum Card offers Amazon Prime subscription credit monthly or annually up to $84 per calendar year. You must pay for the Prime subscription with your Australian Amex Platinum card. 
Discounted Prime Membership
While you may not get a free Prime Membership, there are other ways to get a Prime Membership at a discounted cost.
Discounted Prime Membership With EBT Cardholders
EBT stands for Electronic Benefits Transfer, a government-assisted program that issues welfare payments through an EBT card. If you are an EBT cardholder, you can get Amazon Prime at a discounted price of $6.99 monthly, a 50% saving! 
Buy the Gift of Prime to Avoid Membership Price Increase
UPDATE: As of 2023, Amazon no longer allows Gift of Prime. The link below will show the following message:
Thank you for considering the Gift of Prime. This feature is no longer available. Please see our Amazon gift cards, which can be used to purchase Prime as well as millions of other items on Amazon.
Amazon can decrease, increase, or keep the Prime membership cost. If you enjoy Amazon Prime, you can secure the current $139 annual Amazon Prime membership for years if you'd like. Therefore, when Amazon raises the membership fee, you will still pay the $139 Prime membership fee. Here's how:
Buy a $139 gift of Prime for a 12-month membership. 
Gift of Prime functions like a gift card for Prime membership. 
You can buy as many gifts of Prime as you want. 
You can ONLY buy one gift of Prime one at a time.
Each gift of Prime membership does not expire. 
Have the gift of Prime emailed to yourself, and make sure you are well organized to keep track of each one. You must go to your Prime settings to end your Membership for this to work. See the instructions below on How to Cancel your Amazon Prime Free Trial & Amazon Prime Membership.
After the end date that your Prime membership expires, go back to your email, click on the gift of Prime link, and follow the prompts to successfully enroll in Prime again for another year at the cost you paid for the gift of Prime membership in step 1. 
Use Amazon Gift Cards to Pay for Amazon Prime
Amazon allows customers to pay for Prime using Amazon gift cards. Technically speaking, this is not a completely free method to get a Prime membership. However, there are times that you may receive Amazon gift cards as presents, or you buy Amazon gift cards to meet specific needs. Those include earning bonus credit card reward points on the Amazon category or meeting a minimum spending requirement to get a nice credit card sign-up bonus. 
To pay Amazon Prime with your Amazon gift card balance:
If it is your first time joining Prime membership, you simply ensure the Amazon gift card balance is selected before activating the Prime membership.

Amazon uses the gift card balance as a default payment option when available to pay for Prime membership. So you will just need to verify that.

You can update the payment method if you are an existing Prime member. Follow the steps below:

On the top, click Manage Membership.
Click on Edit Your Payment Method.
Select your preferred payment method, such as the Amazon gift card balance, or use the gift card balance with your credit or debit card.
Click the Continue button to finish the process.
Save Prime Membership With Amazon Household Sharing
Amazon allows the Prime account to share Prime benefits with another adult (18 and up) in the family. A household comprises two adults, up to four teens, and four child profiles that may link in a house. 
The following Prime benefits can be shared:
Free Prime Delivery benefits
Streaming access to Prime Video
Free books with Prime Reading
Amazon Photos and album sharing
Free books with Amazon First Reads
Unlimited listening on Audible Channels
Early access to Amazon Lightning Deals
With this Amazon Household Prime Sharing, you can save some money on Prime Membership by having only one adult in the family pay for the Membership for the whole family. However, remember that payment methods are also shared if you use the Amazon Household feature with a roommate or a friend. 
You can read up for more information on Amazon Household and Prime sharing. 
Save Prime Membership With Amex Offers
This is another way to get an Amazon Prime membership at a discounted price. From time to time, American Express cardmembers can take advantage of Amex Offers targeting Amazon purchases. 
For example:
Spend $200 or more on Amazon.com and get 1,000 Membership Rewards points up to 3 times. 
Get +5 Membership Rewards points per eligible dollar spent. Up to 2,000 points on Amazon.com
While this method does not give you a free Prime membership, it can save you money by getting statement credits or bonus American Express Membership Rewards (MR) points back from American Express. 
How to Cancel Amazon Prime Free Trial & Amazon Prime Membership?
Suppose you are doing the Amazon Prime free trial and do not want to continue your Membership after your free trial ends. In that case, it is recommended that you have a way to remind yourself to cancel your Membership before your trial ends. 
The process to end your Prime membership's free trial and cancel Prime is the same. To do that:
On the top, click Manage Membership.
Click on Update, cancel, and more, then check the box under "Remind me before renewing." 

Amazon will send you a reminder via email three (3) days before your free trial ends to allow you to cancel your Prime membership before they automatically charge you. 

On the same page, simply click on End Membership if you wish to end or cancel your Prime membership. Amazon will prompt you to confirm your decision. If you still want to cancel, click the Cancel My Benefits button. 

Please note that while your Amazon Prime membership is canceled, your Prime membership's benefits are still good until your next billing cycle or when your free trial is up.