"Full Disclosure: We love living points life by using points and miles to elevate travel experiences. In the interest of being transparent with you, we may be compensated from an approved credit card's application, or from some of the products and services recommended on this site. This only happens when you click on our affiliate links. We also earn commissions from purchases made through Amazon Services LLC Associates Program. Thank you for your support and especially for reading this blog! Please see our Advertiser Disclosure for more details!"
Waldorf Astoria Chicago is among the best uses of the Hilton Free Night Reward certificate. The value you get from redeeming your free night certificate at the Waldorf Astoria Chicago is excellent because the nightly rate is expensive.
I stayed one night during my layover in Chicago before my Swiss Business Class trip to Zurich, Switzerland. Here's the review in detail: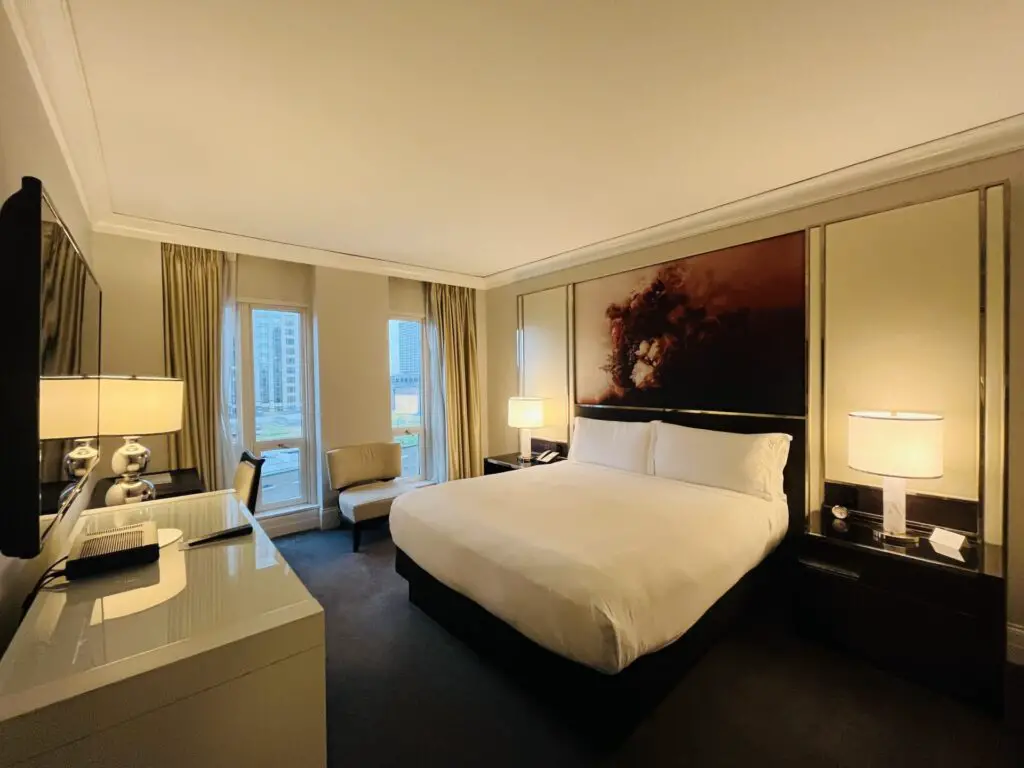 Location
Waldorf Astoria Chicago is located in the Gold Coast area, and therefore, the location is not as touristy as Chicago downtown. You'll need one transfer if you take the subway public transportation from the airport, and the closest subway station is the Chicago station on the Red Line.
Furthermore, there are several restaurants around the Waldorf Astoria property, so you do not need to dine at the hotel if you don't want to.
Room Upgrade
I'm a Hilton Honors Diamond elite member, but I was told the hotel was sold out that day. As a result, I did not receive a complimentary upgrade. I used the Hilton Free Night Reward and booked into the standard Superior King Room; as a result, that's the room type I got.
I recommend that you keep checking availability because their standard award room can be the Superior room or the room with a fireplace. The Hilton Free Night Reward certificate can only be used for the standard award room, which requires 95,000 points per night for redemption at the Waldorf Astoria Chicago.
Moreover, some Hilton Honors Diamond elite members have received complimentary upgrades to a junior suite when the property is not busy.
Room Review
The Superior King Room I was assigned is room number 2002, on the 20th floor. There are 26 floors at the Waldorf Astoria Chicago.
The entry to the room makes it look as if I was entering a private suite, but the room is not a suite. It's a standard guestroom with a king-size bed. The size of the guestroom is also on the small size.
Moreover, the room has a small sitting chair by the window, a desk, and an office chair. A TV is hung above another table, and two side tables are by the bed. Speaking of the bed, the pillows are too soft, but the linens are smooth and comfortable.
The room has two tall, skinny windows looking out at Chicago skylines. However, the view is not worth it, especially when the window size is small.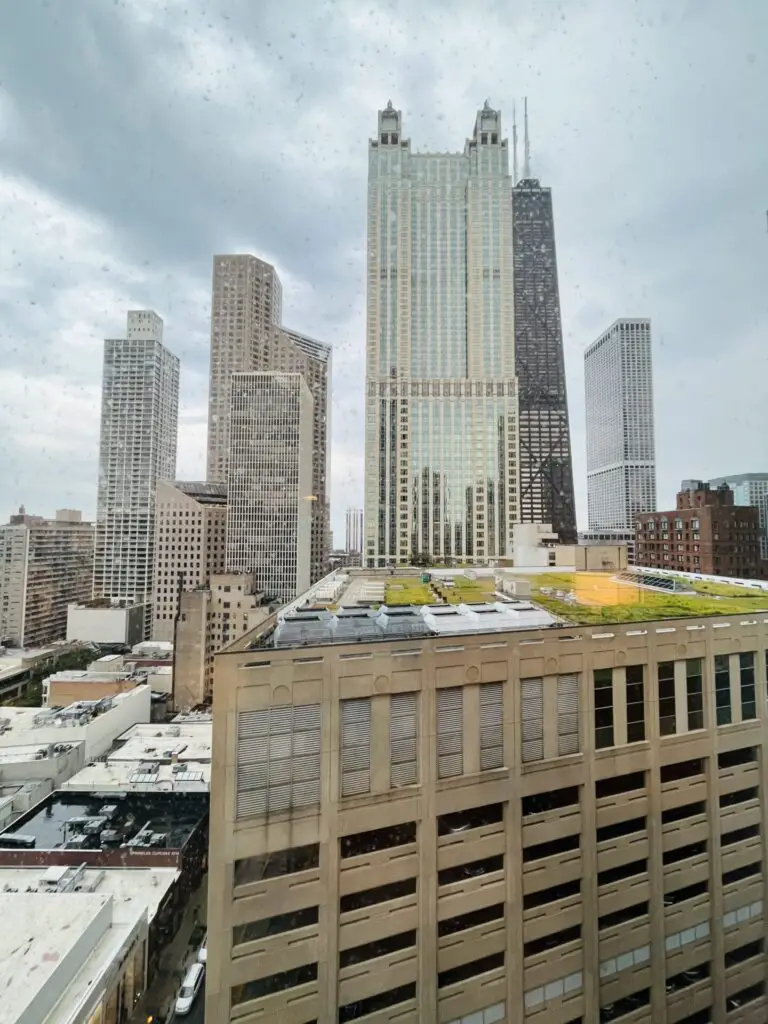 What I love about the room is the beautiful bathroom above all. It's spacious and bright with a double vanity sink, a bathtub, a walk-in shower, and a fully enclosed separated toilet room.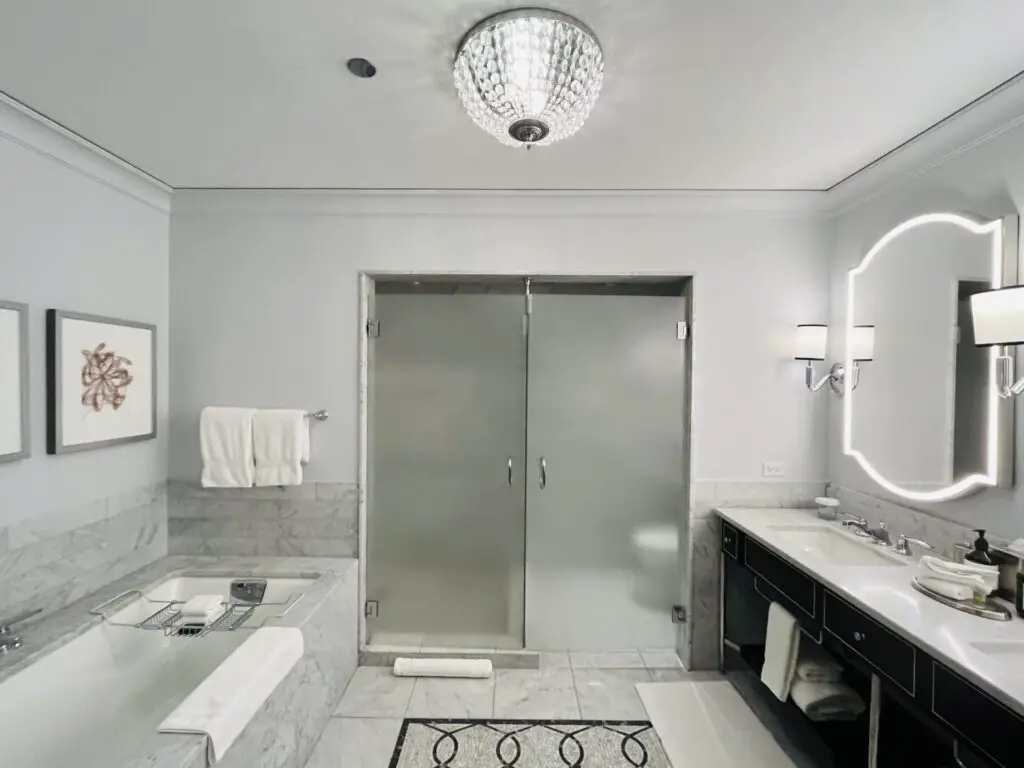 Executive Lounge
Waldorf Astoria Chicago does not have an Executive Lounge for Hilton Honors Diamond members. But they have a Peacock Lounge on the lobby level that only offers complimentary coffee in the morning. There are also paid pastries, espresso, etc.
Welcome Amenity
Waldorf Astoria Chicago offers 1,000 bonus Hilton Honors points per stay for elite members.
Food & Beverage Credits
Waldorf Astoria Chicago is a U.S. property; therefore, Hilton Honors Diamond members receive a $25 dining credit. To clarify, the credit is per person, and there were two of us, so we were given a $50 credit for dining at the hotel. You must ensure the dining bill is charged to the room, and the system will automatically handle it.
Breakfast
Waldorf Astoria Chicago is a U.S. property, so Hilton Honors Diamond members do not get complimentary breakfast. As mentioned above, Diamond members receive a $25 food and beverage credit per person that can be used for the breakfast bill.
Dining
Waldorf Astoria Chicago has the following on-site restaurants and bars:
Peacock Lounge
Bernard's
Brass Tack
In addition, several dining options are within walking distance of the Waldorf Astoria Chicago.
Resort Fee
There's no resort fee at Waldorf Astoria Chicago because it's not a resort.
Parking
Valet parking is available for a steep $78/night. On the other hand, self-parking is unavailable.
Pet Policy
Unless it's a service animal, Waldorf Astoria Chicago charges a non-refundable $150 fee per stay for up to a maximum of two dogs, 30 lbs.
Housekeeping
Yes, available. There's also a night make-up service where they place the water bottles on the side table by the bed with a mini chocolate bar.
Internet/Wi-Fi
Yes, you connect to Hilton Honors Wi-Fi and provide your last name and room number to connect, free of charge.
Bottled Water
Yes, Waldorf Astoria Chicago provides two bottles of water inside the room. There are a lot of those in the fitness center, too.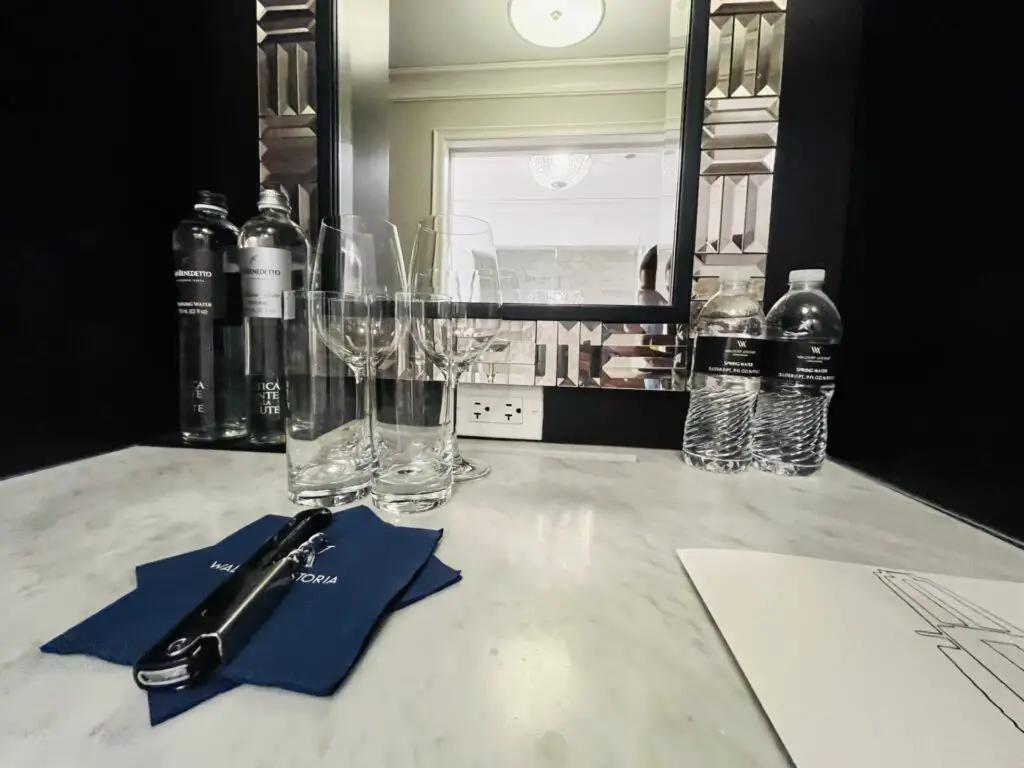 Early Check-in
Hilton Honors elite members can request early check-in, subject to availability. The regular check-in time is 3 p.m.
Late Check-out
I tried to request a late check-out as a Hilton Honors Diamond member but was told to check back the next day. However, I used the Hilton app to chat and was granted a 1 p.m. late check-out. The regular check-out time is noon.
Spa
Yes, it is located on the 4th floor. They also sell merchandise at the spa.
Sauna
All Spa and sauna facilities are located on the 4th floor. It's a beautiful facility, that is to say. There are also locker rooms, a jacuzzi, a sauna room, and a lounge room with a TV for relaxation.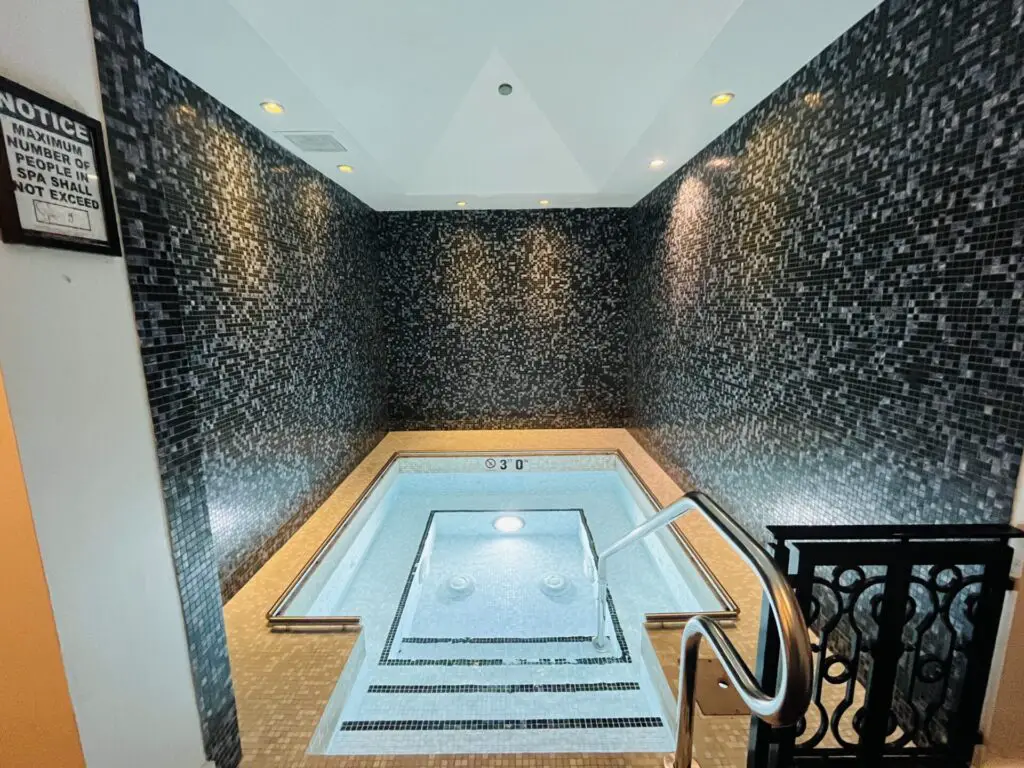 Swimming Pool
The swimming pool is located on the 4th floor. It's a lap pool with quite a few comfortable lounge chairs. The pool looks gorgeous and inviting! Do check it out if you have time.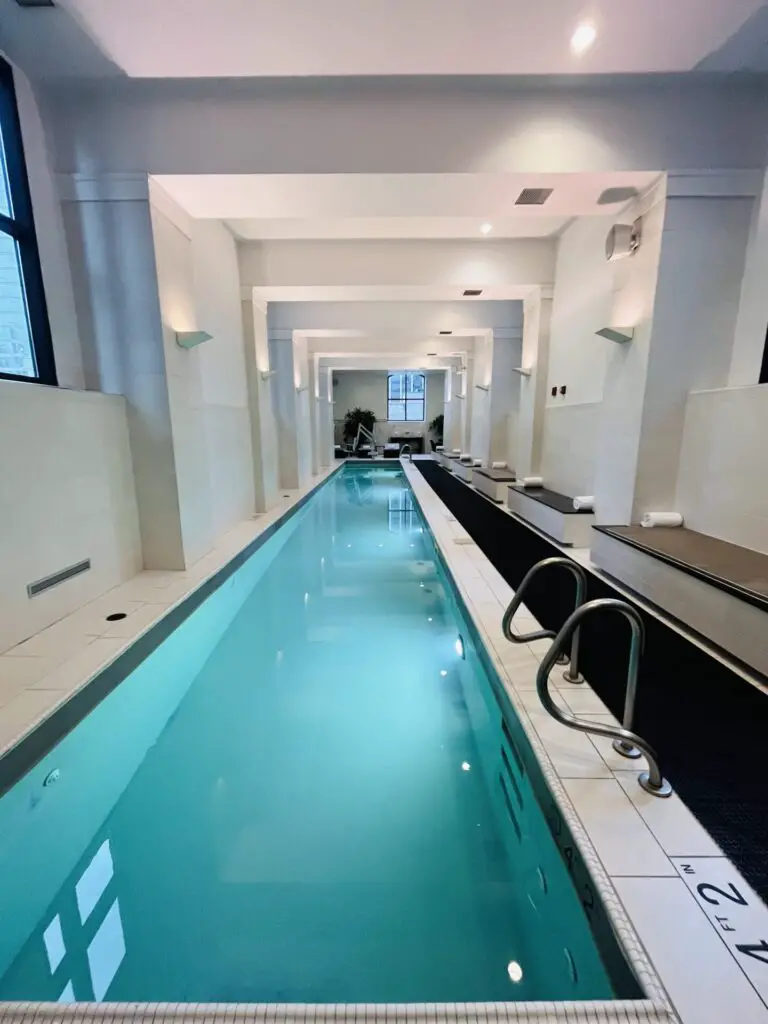 Fitness Center
Similarly, the fitness center is located on the 4th floor.
In-Room Safe
Yes, inside the closet.
Robes & Slippers
Yes, inside the closet. However, only for one person.
Contact
How to Stay at Waldorf Astoria Chicago for Free?