"Full Disclosure: We love living points life by using points and miles to elevate travel experiences. In the interest of being transparent with you, we may be compensated from an approved credit card's application, or from some of the products and services recommended on this site. This only happens when you click on our affiliate links. We also earn commissions from purchases made through Amazon Services LLC Associates Program. Thank you for your support and especially for reading this blog! Please see our Advertiser Disclosure for more details!"

UPDATES: 
American Express Hilton Honors card has no annual fee and now offers 100,000 Hilton Honors Bonus Points through January 17, 2024.
American Express Hilton Honors Card has no annual fee. Besides the good sign-up bonus points, there are not many benefits for this credit card, but it's a good card worth keeping long-term to build and keep a good credit history and keep your Hilton Honors points from expiring when you put a small spend on it.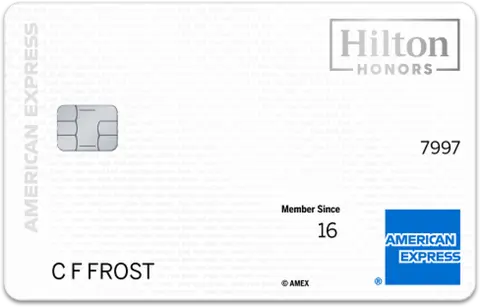 Application Link
Card Benefits
Annual Fee
Downgrade Option
Upgrade Options
American Express Hilton Honors Surpass Card
American Express Hilton Aspire Card