Moorea
is an island located in French Polynesia. Its dramatic landscape is amazingly beautiful and it can be a lot cheaper than vacationing in Bora Bora. The island of Moorea makes a perfect getaway from the hustles and bustles International airport hub town of Tahiti island called Papeete. Moorea does have an airport on the island and it's a very short flight from Tahiti airport (PPT). Any visitors going to French Polynesia will have to endure a long haul flight into Tahiti airport first, clear immigration and collect any baggage before making connection to catch the domestic Air Tahiti flight to another island. It sounds exhausting! This is why we do not feel that flying is the best way to enjoy the journey to Moorea.
Ferry Crossing Scenery Between Tahiti and Moorea
Photo Credit: Points Life
Getting From Tahiti to Moorea By Ferry & How Long Is The Ferry?
The ferry from Tahiti to Moorea is very enjoyable and affordable. The
ferry terminal
is located in the town center of Papeete town which is about 10 minutes car ride from the airport. Each way sailing takes approximately only 30 minutes and costs around $11-$14 depending on which ferry company you choose. Currently, there are two ferry company
Aremiti
and
Terevau
that sail between Papeete town and Moorea.
Compare: Aremiti vs. Terevau
| | |
| --- | --- |
| Aremiti Ferry | Terevau Ferry |
There's not much comparison between the two ferry company and their boats. It comes down to which ferry's schedule that works better for your time. The cost between the two ferry company is not much different either. At the time of this writing, Aremiti charges 1,500XPF (~$14) one-way and 3,000XPF (~$28) for a round-trip ticket. Whereas Terevau is slightly cheaper at 1,160XPF (~$11) one-way and 2,320XPF (~$22) for a round-trip ticket.
Getting the most current ferry ticket cost information:
Should You Purchase Ferry Ticket Online Or In Person? 
You certainly can purchase the ferry ticket online in advance if you find a reason to. However, there's no need to purchase the ferry ticket online. You can just show up at the ferry dock on the day of sailing or one day before your sailing day to purchase the ferry ticket in person. Just make sure you know the schedules of the ferry company that you will be taking. The validity of the Aremiti ticket is 1 year and the validity of the Terevau ticket is 6 months, open date and open time. This means that you don't have to pick a return date or time when you purchase the ticket. You simply board the ferry during the validity of your ticket.
Getting the most current ferry schedule information:
Where To Sit On The Ferry?
There's no boarding process to get on the ferry. The seats are comfortable and the inside seats come with huge windows for sightseeing. There's also an open air top deck with seats that some travelers may go up to enjoy the sun and ocean breeze, or take some pictures. The crossing from Papeete to Moorea is very scenic so get your camera ready!
Is Day Trip To Moorea Doable?
Absolutely, but you should start out early. You can prearrange a full day tour in Moorea and have the tour company pick you up from the ferry to join the tour. After the tour, return to Tahiti island in the evening. It's worth mentioning that the ferry terminal in Moorea does not have much to do and has very little places to eat. If you have time to spare, ask your tour company for recommendations or go to the Sofitel resort to enjoy sandy beach, swim and take some photos with those iconic overwater bungalows at the resort. You do not have to be guest to enter the resort to swim and eat. Just make sure you know your return ferry's schedule and how to get back to the
ferry terminal
.
Where to Stay in Moorea?
If you want to stay on Moorea island (which you should), below are two best luxury resorts:
Hilton Moorea Lagoon Resort & Spa
 property is nestled between two bays on a heart-shaped island in French Polynesia. It is surrounded by the crystal-clear water of the Pacific Ocean featuring overwater bungalows and the only over-water restaurant in Moorea. 
Standard Hilton rewards room is King Garden Guestroom. The room comes with a private terrace and a garden view. Upgrade is possible at this property for Hilton Honors Diamond members. Room rate starts at $436/night. Hilton rewards night requires 80,000 Hilton Honors points per night. 
Photo Credit: Hilton Moorea Lagoon Resort & Spa
SOFITEL Kia Ora Moorea Beach Resort
is located on the most beautiful white sand beach in Moorea. You will be greeted with spectacular views of the crystal lagoon and picturesque overwater bungalows. The resort also offers one of the best snorkeling spots on the island in the protected lagoon. On-site restaurant features outdoor terrace dining and dance shows during the week. 
Beautiful bungalows feature garden views, beachfront and over the water. Garden views room rate starts at $355/night depending on the dates, which makes it cheaper than
Hilton Moorea Lagoon Resort & Spa
. Sofitel is part of Accor rewards program so you can earn and redeem Accor points.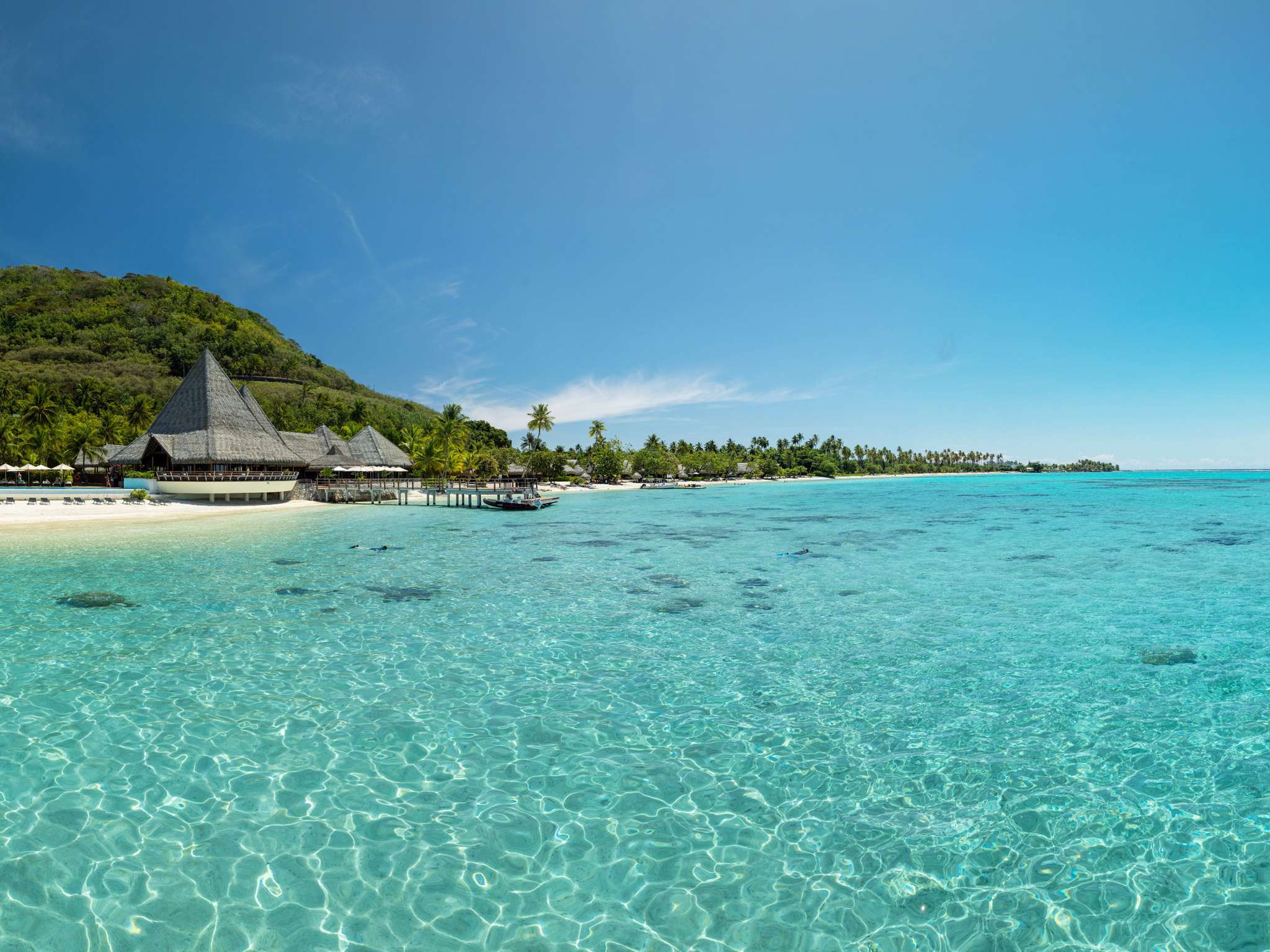 Photo Credit: SOFITEL Kia Ora Moorea Beach Resort
Both Moorea resorts are beautiful and amazing in their own ways. You can't really go wrong with either resort. If you wish to stay on reward points to save money, Hilton Honors points are a lot much easier to earn than Accor points because you can earn several Hilton points with just one credit card's sign-up whereas Accor does not have any credit card's offer.